fri01may9:00 am6:00 pmUnlocking Agile: The Complete1-Day Agile Course9:00 am - 6:00 pm Saint Paul's House Event Organized By: Steven Feeney Event Type :Networking & Seminars
Event Details
The complete single day Agile course
Intensive training to make your project, team and transformation a success.  Using detailed case studies you will learn you everything you need to understand agility and start delivering.
Every attendee gets free, one to one coaching afterwards.
What is Unlocking Agile?
A complete Agile fundamentals course, fully catered, in a single day.
The syllabus covers four themes including
Planning

Prioritisation

Delivery

Optimisation
Who is it for?
It is suitable for Agile novices and experienced personnel alike
Execs

Project Managers

Scrum Masters

PMO staff

BA's

Change Managers

Anyone looking to tighten feedback loops and work better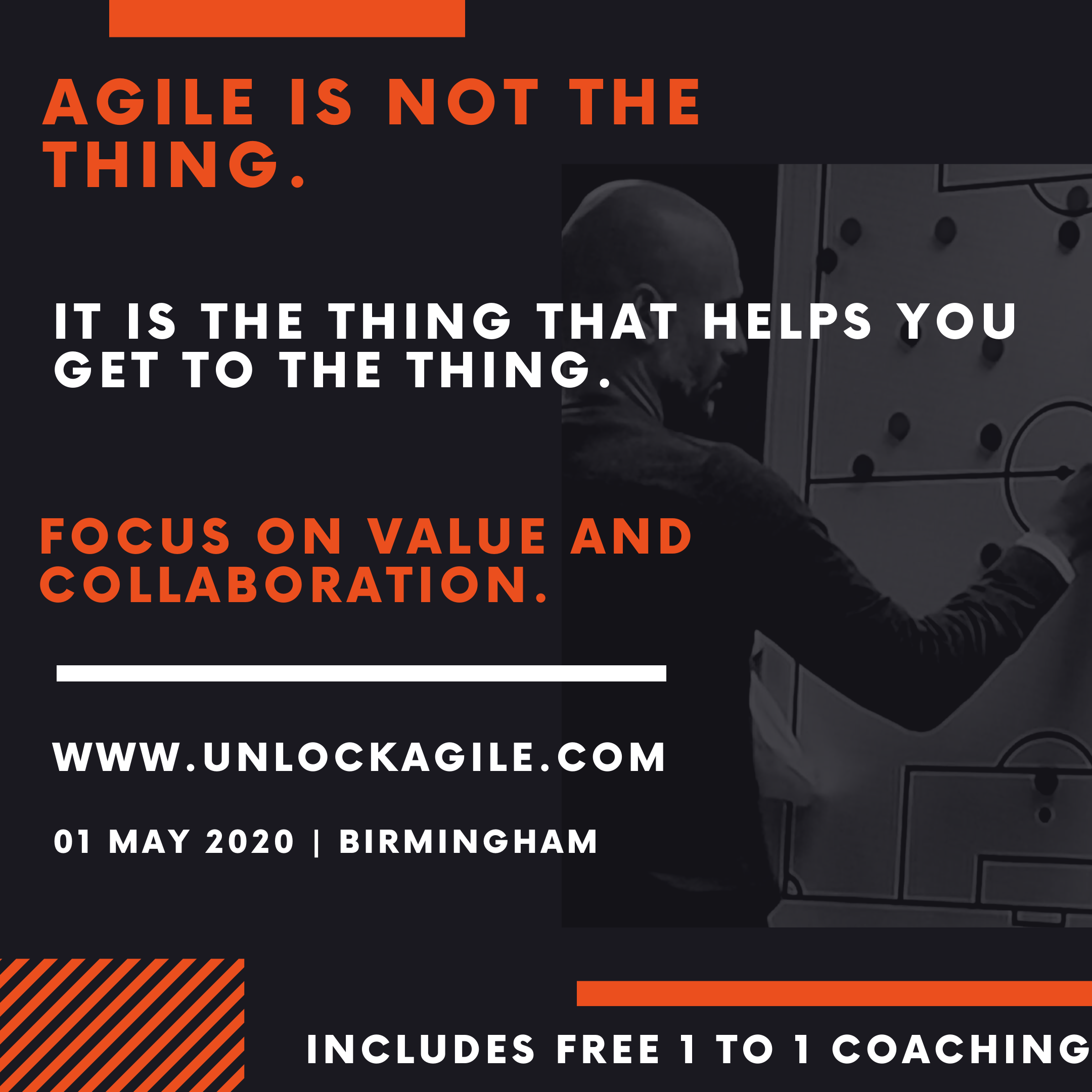 By the end of the day you will fully understand all aspects of business and product Agility and be able to support your organisation to the fullest extent regardless of your role.
What will I learn?
Agile Fundamentals
We begin with fully understanding how the Agile values had their genesis. This workshop covers historical manufacturing, Silicon Valley and the transferable aspects of the waterfall method.
Product Management
Iterative projects thrive on strong ownership and decision making. The workshop provides a toolbox of techniques for ensuring successful product management. We also explore the differences between project and product.
Prioritisation
You will learn a suite of techniques for evaluating a backlog of work and managing stakeholder expectations.
User Stories and Estimation
User Stories are the building block of most feature teams but they are widely misunderstood by businesses. Learn how to write and apply them effectively.
Retrospectives and Root Cause Analysis
In this workshop we will show you how to run effective retrospectives, why they are important and delve into root cause analysis by breaking down a famous movie disaster.
Case Studies
We deep dive into several case studies showing how the Agile values have been applied to companies, at both the startup and the enterprise level, successfully and a spectacular failure.
We use the entire day from 9am to 6pm
Breakfast and lunch are included
Everything is designed to get you operating as an effective team member from the moment you leave
I will also schedule free 1 to 1 coaching with you after the first month to see how you are progressing.
There are no further sales.
This service is purely focussed on you as a course attendee and supporting your needs.
Time

(Friday) 9:00 am - 6:00 pm
Location

Saint Paul's House

15-20 St Paul's Square, Birmingham, United Kingdom, B3 1Q
Saint Paul's House15-20 St Paul's Square, Birmingham, United Kingdom, B3 1Q