thu11aug5:30 pmthu6:30 pmFieldnotes Jamaica Artist Talk5:30 pm - 6:30 pm The Hive at The New Standard Works Event Organized By: Tracey Thorne
Event Details

Free talk Fieldnotes Jamaica artist talk with Tracey Thorne

Join us for a free talk in the gallery for an interactive tour and talk with the artist Tracey Thorne to explore the exhibition Fieldnotes Jamaica.

The talk will focus on the environmental issues explored in the work with opportunity for Q&A to discuss the work .

The new series includes work using the cyanotype alternative photographic process during the talk Tracey Thorne will talk through her process of making work for the exhibition and give a demonstration. Showing participants how she makes cyanotype prints using digital negatives and botanical prints.

About the Exhibition

The exhibition is open from 29 July to 19 August in the gallery at The Hive New Standard Works please check their website for opening times and events. Free access to the exhibition no booking required.

Fieldnotes Jamaica is a new series of work by artist Tracey Thorne made in response to the global climate crisis by reflecting on the environmental challenges facing the Island of Jamaica.

This new body of work was created during the pandemic, a period that provided the artist with more time to look closely at the world which surrounds us and reflect on one of the defining issues of our time.

The exhibition is made up of a set of c-type photographic prints, cyanotypes (including work on some old postcards) and a large print on silk made by the artist.

For more information visit the artist website at www.traceythorne.com or contact the artist at hellotraceythorne@outlook.com.

For access information please visit the Hive website or contact Tracey Thorne.

The project was supported by Arts Council England.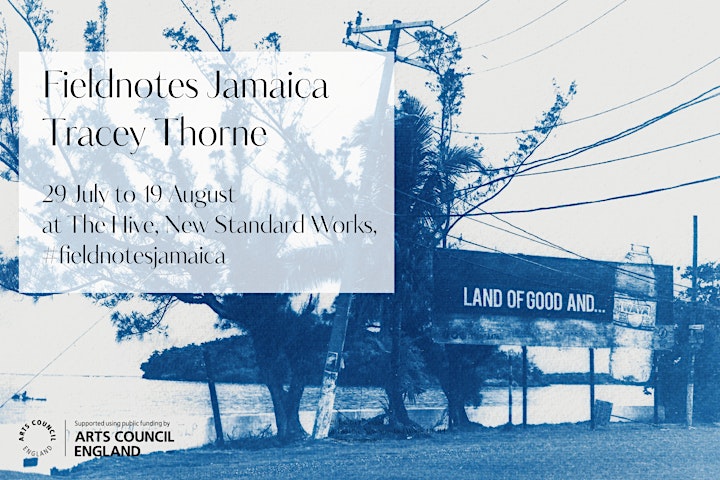 more
Time

(Thursday) 5:30 pm - 6:30 pm
Location

The Hive at The New Standard Works

43-47 Vittoria Street Jewellery Quarter, Birmingham, B1 3ND